About Us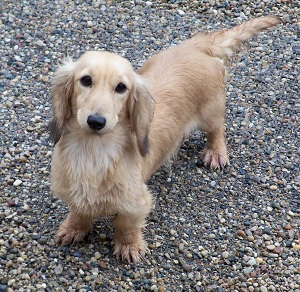 Welcome to Kennel of Dreams! I'm Carol Bowers, owner and operator of KOD. My love affair with dogs began with Bridget, my poodle, when I was a little girl. I became interested in breeding after I joined a local 4H chapter in northern Illinois. There, I learned how to breed and show rabbits, a rewarding 5-year experience.

It was to no one's surprise when I continued my interests into higher education. I graduated from Olivet Nazarene University, Kankakee, Illinois, with a Bachelor of Arts in Biology in 1980. Always the dog-lover, I adopted several kinds of dogs over the years, and continued to learn about health, nutrition and training issues.

My career as a breeder officially began in 2004 with Buddy and Missy, our AKC miniature dachshunds. They were delightful!

Because I had often heard about people who could not have pets due to allergies, I became quite intrigued with what I had learned about Australian Labradoodles. After researching the breed for about two years and surveying the need for responsible, qualified breeders in America, I decided that the cause of the Australian Labradoodle was worthy of my best efforts.

There is nothing more satisfying than helping people. Since I had always wanted to be a dog-breeder and now having the opportunity to be involved with a developing breed, this work is the fulfillment of a life-long dream.

Kennel of Dreams is dedicated to the development and protection of the Australian Labradoodle, and to carefully match dogs with adopting families.

My dream is to provide high quality, genetically progressive, family and allergy-friendly dogs as pets to individuals who value the companionship and therapeutic nature of these wonderful animals.

As a breeder, I was committed to promoting the integrity of the breed, and to continuing the legacy of the Australian Labradoodle in the best traditions of founding Australian breeders Rutland Manor and Tegan Park.
In 2011 I was faced with making the business decision (not heart decision) to no longer breed the Australian Labradoodles.  I have decided instead to expand my mini Dachshund lines and add more colors and patterns to my breeding program.  I now own my first dilute color dogs and my first English creams along with the piebald pattern. 
I was fortunate to have a mentor for the early years and am now helping others begin their breeding programs while I continue my education in the business.  I am constantly striving to improve my knowledge of breeding Dachshunds along with expanding my abilities to do the best I can for the creatures God has put in my care.  Not always sure just where God is leading this business but I do believe He has other expansions in mind for me in other pet related areas of service.  I have participated in my first research project in the summer of 2011 and hope to become involved in more in the future.

Well, it is now the end of 2019 and my body has been telling me it's time to retire from breeding dogs.  My heart will miss them terribly but my body looks forward to the rest.  I am not the kind of person to take my dogs to the pound/shelter or to a rescue.  None of these are good places for dogs and I can not do that to them.  So as soon as we can find good homes for the dogs, we will be retired.  Of course we have a few that are old or with special issues that will remain with us to finish out their lives (unless someone special was to come along and want to care for them).  We are dedicated to making sure all our dogs have someone to give them a good rest of their life.
---
To learn more about my dogs, you can contact me any time after 8:00 AM Eastern Standard Time.
Telephone

(989) 289-9737

Postal address

Carol Bowers, Sheridan MI

Electronic mail