Labradoodle FAQ's


What kind of temperament do Labradoodles have?
How much exercise do they require?
How much grooming is required?
How do I know what size crate I need for my dog?
Should my puppy be spayed or neutered?
What should I feed my new puppy?
Is Obedience Training Necessary?
Will my puppy be immunized when I get him?
Will I need to take my puppy to the vet?
---
What kind of temperament do Labradoodles have?
Labradoodles are joyful, sociable dogs, and therefore, get along well with other dogs. Their mellow disposition makes them especially good with children, yet active enough, sometimes quite comical, to provide lots of therapeutic fun.
They are very clever. and quick to learn special tasks. Because of the friendly, high intelligence of the Labradoodle, it is of utmost importance to work with them the first year of their life. This breed is suitable only for owners who are willing to work with their puppy and provide appropriate discipline. Otherwise, your new adorable "love-sponge", could very well grow up to be a less than desirable "brat".
Acquiring a labradoodle puppy is a commitment of your time and effort. If you are willing to commit to training him/her and providing the discipline required, it will be well worth it in the end!

How much exercise do they require?
This breed needs a lot of exercise.

Life Expectancy?
About 13-15 years.

How much grooming is required?
The curly coat of the Labradoodle needs to be groomed with a slicker brush at least every 2 weeks. To keep it neat and tidy, the coat should be trimmed or clipped 2 to 3 times a year. As an allergy-friendly breed, the labradoodle typically experiences little to no shedding. After grooming, lightly mist the coat with water. Lightly work the moisture in with your hand. This will help the curl to come back after being stretched out from the brushing.

Is crate training necessary?
Dogs in the wild are cave dwellers. Naturally, they feel most safe and secure in a cave-like enclosure. A dog-crate resembles and provides this environment.  Don't be surprised:  If the crate door is left open while the dog is out, often they will return to it to rest or nap inside.
Many people prefer to have their dog sleep on their bed.  If you train your puppy to sleep in his crate at night instead, it creates less trauma for him if you have to board him (like during your vacation), or if company comes and you offer them your bed.  There are bound to be other circumstances in your life that may warrant your pet being comfortable sleeping elsewhere other than on your bed. Otherwise, yours will become his bed if that is where he always sleeps.  Life happens, and it's best to prepare and train with careful forethought. If your puppy gets used to sleeping in the crate, you can always do something different later.  Just make sure they sleep in the crate often enough to stay used to it.  It will make your dog much easier to live with when unexpected situations occur.
Crates are also excellent for giving a time out when your puppy has been bad or to keep him out of trouble while you are not watching him.  If you let your puppy run loose in the house while you are in the yard or gone from home, he is most likely going to get make a mess, chew something up, or get into something, maybe even harmful to himself.  In general, you will be so much more happy with your puppy, if you crate-train him. 
Again, leave the puppy in the crate when you cannot give your attention to him.  Until he has had a chance to learn the rules and is old enough to follow them consistently, it is wise to secure him in the crate while you are otherwise occupied. Just like a child, he needs your attention when out of the crate in the house.

How do I know what size crate I need for my dog?
The proper size of crate for your puppy (or dog) is one that is big enough for him to stand up and turn around in.  As your puppy grows, you may need to get a bigger crate.  Some crates now come with a divider so you do not have to buy a new one when they grow up.  Just buy the size needed for the expected adult size and adjust the divider until they grow into it.

House Breaking
A crate will help immensely with teaching your puppy to go to the bathroom outside and not in your house.    By nature, dogs do not like to go to the bathroom in their beds. Therefore, if the crate is big enough for him to stand up and turn around in, then it is the right size. When you take him out of his crate, carry him to the place in your yard that you want him to go each time, so he will learn to go there.  As soon as he wakes up from a nap and right after a meal are the times he will have to go for sure.  Also, take him out after play or exercise.  Beyond that, you need to keep an eye on him, and again, it is much like a child.  Every so often you need to take him out.  This also forms good habits for your puppy.  You may want to train him to give a particular sign.  Most dogs pick up on this, for example, you may want him to bark, turn in circles, or some other sign. You would stop at the door, make the sign and then proceed to open the door and take him out  Before you know it he will be letting you know when he needs to go.
Some people use newspaper and chemicals to train puppies; however, this just trains them to go on the paper and you still have to do the other training anyway.

Should my puppy be spayed or neutered?
All Kennel of Dreams puppies sold as pets are spayed or neutered before they come to you.  Veterinary research indicates that early spay/neuter is actually healthier and kinder to puppies.  It also protects the Labradoodle from indiscriminate breeding.  It is also better for temperament, helps to keep your pet from wandering off, and, in the case of males, to prevent them from marking their territory (your house).

What should I feed my new puppy?
There are many diets for puppies and adult dogs available today.  Pick a price and you can find what you're looking for.  Let me tell you what we feed our dogs, and why.  You do the research and you decide.
Dogs in the wild eat raw foods consisting mainly of whole animals.  If you look at the products on the market today to feed dogs, they consist mainly of grains.  Dogs in the wild do not eat grains.  You have probably been told all your life not to feed bones, especially chicken bones, to dogs.  Actually, if you do feed them cooked bones it will hurt them, and that is the type of bone most people try to feed dogs.  Raw bones will not hurt them; they are, in fact, an excellent source of minerals and are really good for them.
Our dogs eat mainly raw chicken necks, small bones from cattle, and any small and soft bone.  Raw rib bones from any animal are good.  We prefer to feed them raw chicken necks, because they are easy for the puppies to chew.  Occasionally they get some plain yogurt, cottage cheese, fully ripened fruit, and raw vegetables.  Puppies really like baby carrots, but just a couple at a time.  Baby carrots are good for puppies to "teeth on" too.
The high raw bone content in the diet helps to provide the minerals they need and vitamins as well.  It helps to create less waste and firmer stools, which help to keep anal sacs cleaned out.
Research has shown that dogs on the raw food diet have less health problems, have less body odor and naturally have fewer problems with fleas.
Some vets are recommending this diet for dogs that have allergies.
There is a lot of research that has been done on this diet.  A good website to check out is www.barfworld.com, which is actually done by a vet from Australia and is very educational.  (By the way, Australia is ahead of the U.S. in knowledge in the area of dog breeding and diets.)  BARF stands for two different things; the easier of the two to remember is Bones and Raw Food.  There are books that have been written on this subject also.  The Internet is a good place to find them.
We ask that, as you are making your decision on what to feed your puppy, you will have an open mind to adopting a raw food diet for him. 

Is Obedience Training Necessary?
Obedience Training is always recommended, but especially so with the Labradoodle. Someone once said of humans: "Our greatest strength is sometimes also our greatest weakness."  This is such a smart, intuitive breed, we advise you to take the necessary measures early to avoid bad habits from developing.  The first 12 months are very important that you work with your puppy.  Teach them when they are young and you will be so glad that you did when they are adults.  You will have a well behaved dog and that always brings joy to the master!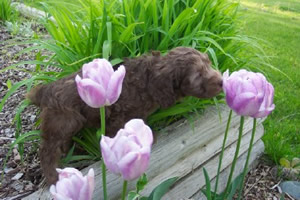 some like to smell the flowers... some prefer to eat them ...

Will my puppy be immunized when I get him?
Yes. All puppies will be up-to-date for their age when they leave Kennel of Dreams.

When will I need to take my puppy to the vet?
You should take your puppy to the vet within a few days of his arrival.  It is always good to make sure that you are happy with the health of your puppy early.  He will be vet checked before arriving at your house, but it is always good to have your own vet check him as well.  At that time your vet can advise you as to the schedule for further immunizations needed in the area where you live.  Keeping your puppy up-to-date on his immunizations is a good way to help keep your puppy healthy.
---
To learn more about our Australian Labradoodles, you can contact me any time after 8:00 AM Eastern Standard Time.
Telephone

(989) 289-9737

Postal address

Carol Bowers, Sheridan MI

Electronic mail