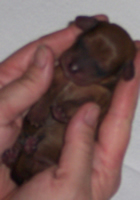 All puppies come to you wormed and  with their first puppy shot. I no longer register litters although all are AKC registerable and come with a guarantee that they are healthy.  There is an extended 2 year health guarantee available if the puppies stay on the food they're eating here and an extended 3 year health guarantee if they stay on the food AND NuVet vitamins. By placing your first order through the links on my homepage that will activate your extended health guarantees. 

We will set a date for pick up for each litter.  You should make arrangements to pick up your puppy on that day.  This is current policy due to the fact that a puppy not picked up when the rest of the litter is can cry itself sick which is not in the best interest of the puppy.  We are available for you to pick up your puppy after 1pm on weekdays.  After 1:30pm on Sundays.  We are not available for pick up on Saturdays. Therefore, all pick up dates will be scheduled for Sunday through Friday.
Prices vary depending on color and pattern. Prices are as follows:

Black & tan ~ Red      $1200
Chocolate & tan       $1160
Above colors in Piebald pattern       $1220
Black Dapple ~ Red Dapple      $1220
Chocolate Dapple        $1280
Shaded English Cream  (Born with some black hairs and is Long haired only)     $1500
English Cream Piebald       $1280
eeCream  (English cream born solid cream, no black hair)   $1800
Cream (smooth only)       $1760
Isabella and tan       $1760
Blue and tan       $1760
Cream, Isabella or Blue Dapple       $2075
Isabella or Blue Piebald        $2075
I have been breeding dachshunds for close to 15 years and it's time to work towards retiring from breeding these wonderful creatures.   I'm writing this 8/16/2019.  There will still be puppies for another year, possibly longer, but there will be less puppies available.   From now on we will not be taking bookings ahead, only for puppies once they are born.  A 25% deposit will hold the puppy of your choice. Call or e-mail for an application.
Due to current legislation I do not ship puppies. 
Due to the serious outbreaks of Parvo in the US I must inssist on no vistits to see puppies until they have their vaccinations to protect them from any germs that may be brought in. Parvo is easy to carry on your shoes or clothes and pass on to puppies. I realize you would never intentionally do anything to harm the puppies, but I must follow this practice to be able to provide you with a healthy puppy when it's time for your puppy to move home with you. I do my best to provide you with pictures along the way so you can see your baby growing up.
Click on the e-mail address below to send a message:
or
Call: (989) 289-9737
---